Services
Boutique Power specialises in the design, supply, installation and support of remote area power supplies and renewable energy systems. We are experienced in both on-grid (grid connect) and off-grid (stand alone) systems. Usually we take responsibility for the complete system, however we also provide installation only sub-contracting for other solar power companies.
Off-grid systems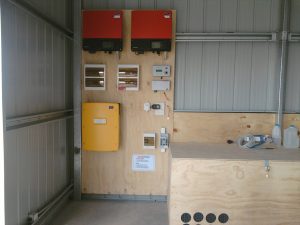 An off-grid system, also called a stand-alone power supply, is used to provide reliable 24/7 power to holiday cottages, isolated homes and homesteads, aboriginal communities, resorts and other sites not connected to mains power.
Boutique Power has a wealth of experience designing, installing and supporting off-grid systems. Locations are usually remote and include Cape York Peninsula, Torres Strait, off-shore islands and Norfolk island as well as within our local area of Far North Queensland.
Most of our sites use solar as their main source of power, with diesel generator back-up. Some sites include wind power and micro-hydro as well.
Grid connect solar systems
A grid connect solar system generates electricity which feeds into the mains supply, reducing the consumer's electricity bill and in some cases eliminating it altogether. Our grid connect solar systems are to be found mostly in our local area, which is the southern part of the Atherton Tableland in Far North Queensland. Solar arrays are commonly rooftop mounted, but can be ground mounted and are typically between 3kW and 10kW in size.
Grid connected battery storage
A recent development in the residential sector has been the introduction of batteries to store surplus solar power. Rather than have the surplus exported to the grid or even just go to waste, it is stored for use later in the day, typically during the evening peak period.
Some systems are able to operate independently of the grid. These are called grid support systems. In the event of mains power failure they are able to provide back-up power. Some are designed to provide back-up for just a few hours, while others can supply power indefinitely. These systems therefore combine all elements of both grid connect and stand-alone power supplies.
Micro-hydro
Micro-hydro power is the generation of electricity using turbines placed in flowing streams. Max Enfield, Technical Director of Boutique Power, has been involved in this area since 1992 when his workplace started using power from a turbine located on the adjacent Walsh River west of Herberton in Far North Queensland. Since that time he has been involved in the design and installation of several residential scale off-grid micro-hydro systems mostly in Far North Queensland.
Solar water pumping
Our experience with solar powered water pumping includes installations with pumped heads to 50m and flows up to 20,000 litres/day.
Consultancy
Boutique Power provides a consultancy service, mostly to other installers. The range of services provided includes system design and the production of documentation, wiring diagrams and bills of materials.